---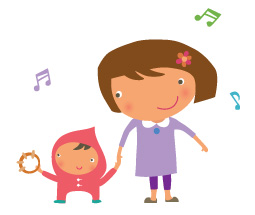 How do babies and toddlers benefit from their own music class?
Scientists tell us that infants are born with billions of nerve cells and a nearly unlimited potential for connections between those nerve cells. Every time an infant has a sensory experience, neural pathways are formed. The greater the number of neural pathways, the greater the brain power. Rich sensory environments are vital to the brain development of infants.
In Kindermusik, we dance in a social setting where small children can begin to understand and anticipate patterns, which preps their brains for math and musical theory. We play with steady beat, which underlies our ability to pick up the pattern of language. The bonding and comforting activities we show you in class help you and your child work through all the natural stresses that occur with growing and developing. Music increases coordination and balance, promotes literacy and language, cultivates listening skills, and encourages delightful and rewarding interaction with your child!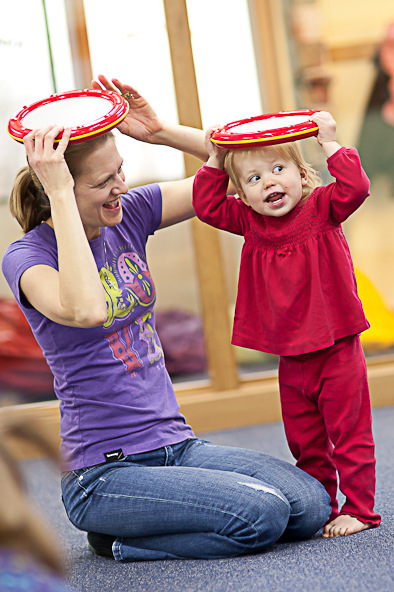 Does Kindermusik include parents?
Kindermusik acknowledges that you are your child's first and most important teacher, and your Kindermusik classes and Home Materials will empower you with the knowledge and tools to bring the love of learning and love of music to your child. Kindermusik is truly the essence of "quality time," offering you a place to create special memories with your child and gain new insights into your child's development.
You will discover a unique sense of community and belonging in the Kindermusik classroom. Not only will your child blossom in this environment, but you will come to appreciate the support and friendship from the other adults in class.
I plan to have my child take music lessons later on. Why enroll in Kindermusik now?
This is the time that all those connections are being made! Children are in their critical period for developing a good foundation in music, and full musical potential is often lost if it is not nurtured and maintained in these early years.

As your relationship with your child is enhanced, as you encourage them to hold hands in a circle dance or share an instrument with a classmate, as you observe their fine-motor and gross-motor development through joyful dance and play and their language skills flourish, you will be so glad that you made the investment.

In short, Kindermusik helps each child develop musically at the right time and in the right way.
I want to enroll my child in preschool and maybe also dance or karate. Why do Kindermusik?
When it comes to preschool, many parents have found that this is not an either/or choice. In fact, Kindermusik supplements and enriches the preschool experience tremendously! The appropriate developmental nature of Kindermusik activities ensures that learning is never "too much, too fast."

Many of the benefits of the other activities – such as promoting physical coordination and social skills, providing a structured routine, building self- esteem and developing talents and cognitive abilities – are actually all encompassed in a Kindermusik class. The opportunity to creatively express their individual imaginations through the combination singing, moving, and playing instruments activities is unique to Kindermusik.

PLUS there is the added benefit of a development for a love of music that will last much past the time when school is done and the dance shoes and karate gees are put away. In fact, as we often say at Kindermusik: "A good beginning never ends."
Is Kindermusik a good investment?

Kindermusik is the leader in Early Childhood Music and Movement programs. Being a part of Kindermusik ensures that you get an exceptional product and an exceptional experience.
Kindermusik is the "designer" label as opposed to the "generic" or "in-store" label.
Kindermusik regularly consults with experts in the field of Early Childhood development, music and movement as they develop their curricula. These experts, along with an amazing team at Kindermusik International, bring their knowledge and experience into your lives. No other curriculum can boast of such backing.
The materials produced by Kindermusik International are of the highest quality. With your Home Materials, your classroom experience can continue at home (or in the car, the doctor's office office, or grocery store) every day of the week!
If you compare apples to apples, Kindermusik is actually often less expensive than other programs. There are no costume fees, recital fees, instrument rentals, or additional purchases required. With Kindermusik "you get what you pay for" – and then some!
And here's the best part. Kindermusik is truly MORE than just music.
Is

Kindermusik REALLY

all

that wonderful?
A few reasons why we think so:
Parents tell us that it is. And kids do, too! "Mommy, can we go to Kindermusik today?" is a common refrain. Some families have had to change their route so as not to drive by the building if it's not class time! One family has had to tell their daughter that her teacher will be asleep until class time, or she begins asking to go at 7:00 AM.
As the world's leader in music and movement curricula for young children, we see each day how children blossom when they are engaged on every level - physically, emotionally, socially and cognitively. As your child is noticed and loved, as we celebrate her discoveries and contributions, as they are so joyfully immersed the activities that they don't even know they're learning, you will know beyond a shadow of a doubt that Kindermusik is not just good for your child; it's impact extends well beyond the classes into the everyday life of your child and family, and truly enables your child to fulfill every inch of their marvelous potential.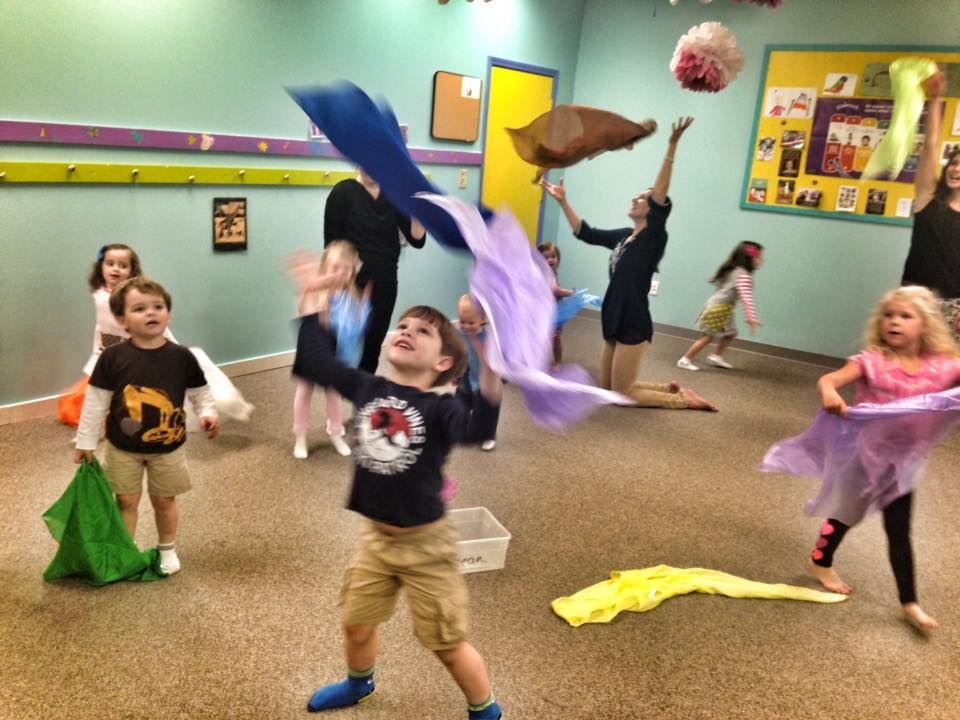 So, what's the next step?
We invite you to join thousands of other parents around the world who attend Kindermusik classes every week and to experience for yourself why Kindermusik is the world's most trusted brand in musical learning. Click here to join a class! Not sure which class to choose? Start here, email us or call 864-834-1623.
I am interested in private music lessons. Why do Kindermusik instead?
In our Young Child and Big Kids classes, children learn vital foundational music skills while they are exposed to a variety of musical concepts and instruments. Using the principles of Suzuki, Kodály, Dalcroze and Orff, students explore many facets of the musical experience-speaking, singing, moving, dancing, listening, creating and playing instruments, as well as learning to read and write music. The children develop a confident, joyful voice for singing and speaking as well as essential building blocks for a future of successful learning. The result is a Kindermusik graduate with a solid foundation and a giant head-start when they move to instrumental or voice lessons.
Private music lesson teachers do tell us those children who begin lessons much before 7 or 8 are not any farther ahead of the child who begins at a later age, so that's why we recommend Kindermusik first. Plus, Kindermusik is foundational to ALL the activities your child will want to do – soccer, private music lessons, reading, math, making friends and more!